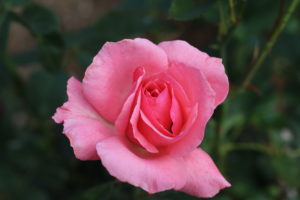 Love is all that really matters. That is something we are all surely feeling with our heightened concern for the well-being of loved ones. And that is what I told a high school student some time back in a memorable exchange, which began when she asked me an intriguing question out of the blue. The hour was late, and our meeting at her high school was just breaking up. She walked over to me and asked, "So, what have you learned about life?"
I asked her what she meant. I was tired and needed some time to formulate an answer. So I stalled with the old "clarification" trick I learned in college.
To help me out, she added: "I mean, in a single sentence, what is the most important thing you have learned about life so far?"
My immediate impulse was to respond, "Let's all go home, and talk about this another time." Yet looking at her, I realized she really wanted an answer. In addition, I was curious about what she would say, and also what another student standing next to her might respond with.
After a short space, I said, "What I have learned is that love is all that really matters." Not wanting to stop there, I continued, "Who knows, love may be all that really exists. Everything else passes, but not love, for if anything is eternal it is love, since we are told God is love. I believe we here to love and be loved, and to learn that the only thing that has permanent significance is love."
Then I looked at this young woman, whose life was all ahead of her, and I said, "If you have not yet learned this truth, you will someday. And for your sake I hope it is sooner rather than later." I wanted to say more, in a fatherly manner, about things for her to look for and avoid on the way to the discovery that love is the only thing that really matters. Yet she had not asked for professional advice, but only for personal reflection.
I asked her what she had learned, and she answered without hesitation, "Live fully today; learn something out of each experience you have every day." I told her that was a wonderful insight into life, and that I hoped she would always have that positive attitude. She indicated she intended to.
Turning to the other student, I asked her what essential thing she had learned about life so far. She was waiting to answer: "You are here to learn, and you need to listen because everybody has something to teach you."
I strongly endorsed her sentiment: "That is a very good insight, one I wish more people understood and acted on. In everybody there is at least one great truth, the hidden truth of their life. The problem is, there are too few listeners to draw that truth out of them."
Both students agreed about the difficulty of finding good listeners. Most of us would rather talk about ourselves than listen intently to others. After some more discussion, we agreed that each of us had learned valuable lessons about life. I told them how impressed I was with their answers. And I really was.
I finished by saying it would be interesting to discuss this again in a decade or so, to see what further things we had learned about life and love. We shared smiles and went our way.