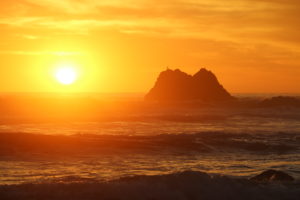 These are turbulent times indeed. Times in need of the peace of Christ, which passes all understanding, yet is readily available to those of us open to it. Here is a meditation titled "Coming Peace" that addresses our need and God's response.
"Peace I leave with you; my peace I give to you…. Do not let your hearts be troubled, and do not let them be afraid" (John 14:27).
All will be well eternally.
Let that promise sink in,
As if it were a spiritual weather front
Moving inexorably toward you,
Bringing water to your parched soul,
Heat to your lukewarm heart,
And a restoration of your faith, hope and love.
Let the promised peace of tomorrow
Sweep across the fields of your today,
As a favorable breeze of God's irreversible good will.
That the peace which passes all understanding
On its way to you now,
Will grant you in its very anticipation
A kind of down payment and guarantee,
Of the horizoned glory of God's good-grace.
The peace of Christ will not wait
Until you should reach and enter it;
Rather, like a transfiguring cloud,
Divine peace will descend rain-like on you,
The peace which assures you that
"Everything is all right, eternally."
That assurance will enable you to endure
Whatever stands between you
And that vaulted, inexorable tomorrow
Of God's good will for your destiny.
Learning to wait steadfastly for Christ's peace
To pass over and through you,
Will strengthen you to remain steadfastly
In that peace, once it has arrived,
Bringing you into heaven's abode of peace without end.