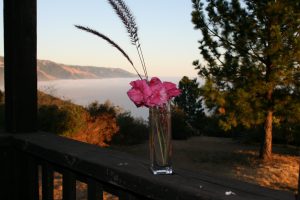 God's love is perfect love. The word used in the New Testament for "perfect" means "fully mature, complete, lacking in nothing; thus perfect." Only God's love is fully mature; only God can love us perfectly. Perfect love is ever of God, not us. It originates in God, not in us; it is the love from above, agape, not the love from below, eros. Eros, which means desire or passion, seeks fulfillment, which can only come through receiving God's agape love, at which time we may well realize that this was the love we had sought all the way along.
Agape love is the love from fullness, which gives itself away. You cannot have agape love until your well is full, even overflowing; then it is your joy to give to others from your wealth, so as to increase theirs. It is not a love about which the giver says, "I am of no significance; see how I sacrifice for you." Rather it is the love so rich, so wonderful, the giver says, "As this great good fortune has come to me, this wonderful love in which I stand, I desire to share it with you, so that you may receive what I have received." The focus is on the love itself, and the Source of the love, God.
Once you have all the love you need, share it with others. But first, take what you need. There is an endless supply of God's love. Jesus brought this ever-springing love, welling up in our hearts, granting life to us and to those who receive the water of love from us.
God's perfect love forgives, heals, restores, makes right. Just as surely as God breathed life into our physical bodies at our creation, so God in Christ seeks to breathe into us yet again this love with which we are loved. Karl Barth says that God's love is a love which "does not ask or seek or demand or awaken or set in motion our love as though it were already within us, but which creates it as something completely new, making us free for love as an action which differs wholly and utterly from all that we have done hitherto."
God's perfect love castes out fear, and everything that belongs to fear, including doubt and ignorance. Fear is itself punishing; it is a most painful, debilitating human emotion. And those who fear God cannot truly love God. Fear and love cannot occupy the same space. To fear the judgment of God means not to be aware of the love of God. Though we will all be judged by God, we need not fear God's condemnation, because the price for both our sins and our forgiveness has already been paid by the blood of Jesus Christ.
God's perfect love casts out all fear, as light flooding a room casts out all darkness. That includes casting out anxiety, an even greater enemy than fear. When you fear, you know what you fear; when you have anxiety, you do not know its source, you just have a vague foreboding that something potentially catastrophic is about to happen, you don't know when or from where, or how to get ready for it. Anxiety is a kind of cancer of the soul, whose work is to replicate itself everywhere, filling up the soul, and seeking to destroy the soul's healthy cells of faith, hope and love.
But when the Spirit of God enters the soul, when the love, which is the very light of God, cascades upon your inmost being, caresses the very center of your vulnerable heart, all anxiety is cleansed away. You know with a spiritual certainty that all will be well eternally in God, that God has the power to protect you, and the will to save you no matter what, come may come.